SGC president Rusty Darby supporting regional/national cotton initiatives
South Carolina cotton producer Rusty Darby understands what negative impacts the U.S. trade war with China and the global pandemic continue to have on world cotton demand, Therefore, he assumed his role as the new president of Southern Cotton Growers, Inc., (SCG), with a proactive mindset and a long-term vision.
Darby's tenure on national and regional cotton organization boards has honed his perspectives on issues facing U.S. cotton producers. "Our domestic cotton industry is encountering adversity like we have not seen since the boll weevil. Cotton sales to our largest customer, China, were starting to trend up, but this pandemic has not only shuttered consumers, it has stalled supply chains. Now is the time to plan strategically for the future," says Darby, who told David Ruppenicker, chief executive officer of the Dawsonville, Georgia cotton association, he wants to strengthen the organization's service to its members as well as its efforts to influence cotton policy on their behalf. "We want to prioritize our goals based on the needs of our members."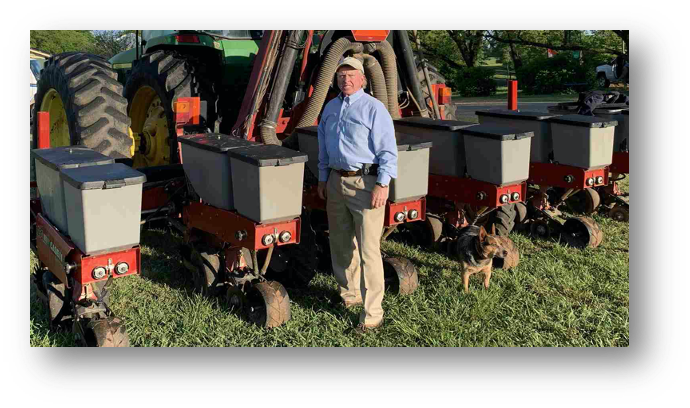 At their January annual meeting, Darby and Ruppenicker received board approval to contract with an outside agency to create an organizational evaluation survey to gather input from their member constituents across Alabama, Georgia, North Carolina, South Carolina, and Virginia. "Those farmers pay assessments to this organization. We want them to know how we are investing those funds to influence domestic cotton policy on their behalf and increase world cotton demand through our support of Cotton Council International (CCI)," Darby says. "This survey will let them share opinions or concerns, and broaden SCG communication channels moving forward."
SCG has long been a funding partner to CCI. "As the overseas promotion arm of the National Cotton Council, CCI's work is essential to the development of international demand for U.S. cotton," Ruppenicker says. "Their marketing programs continue paying dividends to our industry."
One important message SCG has been touting relates to a new program designed to share U.S. cotton's sustainability message.
U.S. Cotton Trust Protocol
Darby is South Carolina's member on The Cotton Board. It is comprised of cotton producers and cotton importers. "Importers work for brands and retailers like Wrangler, American Eagle, Target, and Walmart who import cotton apparel and products into the United States," Darby says. "Consumers today want products that are sustainable, traceable, and produced responsibly. The US Cotton Trust Protocol, created through the National Cotton Council, is a volunteer program allowing U.S. producers to highlight their farm's sustainability achievements and have them shared with cotton buyers and customers across the world."
Ruppenicker and Darby frequently underscore the program's importance to their board and producer members. "Grower involvement isn't just necessary, it's critical as companies and their shareholders continue basing their cotton buying decisions on corporate environmental and social responsibility goals and requirements," Darby says. "All farms are different, but all farmers need to highlight their own track record of sustainability success by enrolling at www.trustuscotton.org.
The program is guided by a multi-segment represented board of governance that has established sustainability goals. "Goals include measured increases in production and irrigation efficiencies, and reductions in greenhouse gases, carbon, soil loss, and energy use collectively across all U.S. cotton farming operations by 2025," Darby says. "Our comprehensive U.S. regulatory system and advances in on-farm technology adoptions have made the U.S. cotton production segment the most sustainable in the world, but we have to bare our souls through this program to prove it to our customers."
Darby understands some farmers may be leery and hesitant to share specific details of their operations and production practices. "They have to move past those concerns and enroll in the program to continue our strength of a unified industry voice that has been a linchpin to our success for so long," Darby says. "The U.S. producer segment must be responsive to this program or risk being left behind."
The cotton production season has already begun in some areas of the Cotton Belt.
Across the southeast
Planters will soon begin rolling across the Southeast as producers begin the 2020 growing season. USDA's March Prospective Plantings Report indicates U.S. producers intend to plant 13.7 million acres of cotton this season.
April 25 was Darby's target date to plant cotton if soil temperatures were warm enough. "A late-season drought in the Piedmont region of South Carolina last year robbed some of my cotton yields and stunted pasture growth for my cow/calf operation. I thought we would have to reduce our momma cow numbers," says Darby. "A mild winter saved us."
As much as it hurts, Darby is decreasing his cotton acres this year and will double crop an alternative crop after he harvests his wheat. "I have a family will dating back to 1820 verifying cotton was produced on this farm," Darby says. "I look forward to working with the SCG board and staff to capitalize on future opportunities for cotton as we move past these times of uncertainty in health and world cotton trade."
*To stay informed on timely news and information about cotton and agriculture, please "Like" our Southern Southeastern Facebook page.