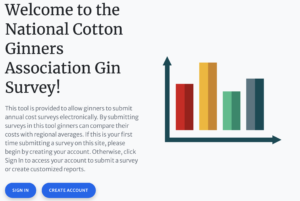 The National Cotton Ginners and USDA are still conducting their Gin Cost Survey. More responses are needed. We are pleased to help get the word out but we need YOUR help in filling out the survey.
The Survey has been updated to include some better descriptions on what is being asked about. The only way this survey will improve is to have people fill it out and send feedback to the Authors. You can send it to us at the association as well and we'll forward that to the authors if you wish.
Please go to cottonsurvey.org and fill out the survey. Many industries use the national and regional data every day for various reasons and the information is very useful in communications with congress and others. All individual gin information is kept anonymous and data that is shared with the pubic is aggregated.
We really appreciate your help in this.