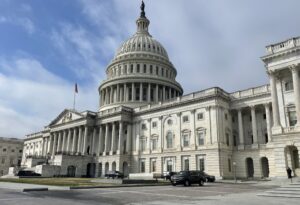 This week nearly 30 producers and Ginners from the Southeast went to to Washington DC to meet with most of the Congressional representation from our region. The group flew to Washington on Monday, Feb 27 and had nearly 60 meetings over the next day and a half on the Hill.
This is an annual trip held by the Southern Cotton Growers Government Relations Committee. For the past several years, the group has invited the Southeastern Cotton Ginners Executive Committee to join in the trip. This year many of the producers were also Ginners or tightly connected to the ginning community.
This is the first time we've had a chance to go on such a trip in three years. The last trip was just before Covid shut everything down in March of 2020.
With this being a Farm Bill year, it was the main topic of conversation. While nearly every special interest in the country has a lobbyist in DC, having actual constituents affected by the laws they write has a much bigger impact than can be explained here. Being able to hear about the actual effect of the cost of diesel or fertilizer prices from people back home leaves a serious impression. Another topic front of mind for many on the trip was the H-2A Program and the recent 14% increase in the AEWR. On Monday, the Department of Labor released some changes in the AEWR that will make it the program even more cumbersome and potentially more expensive than it already is. More details are forthcoming.
One of the biggest highlights was a to be able to visit with House Ag Committee Chair Glenn "GT" Thompson and Ag Committee staff. We appreciate the Chairman's time and his staff for meeting with us.
If it were not for the support of producers and ginners in the Southeast Cotton Committee (SECC) political action committee we would not be able to get the appointments we were able to have. If you would like more information on how to participate in SECC, please contact Susan Garrick in our office.
We would like to thank those that went on the trip and the members who were able to meet with us and especially the National Cotton Council Staff on helping to facilitating the trip.